Are you selling vinyl crafts? If so, are you selling them individually or have you started to create bundles or gift sets? I have to admit, I'm a sucker for buying "sets" or "kits" or "bundles" or basically anything that makes me feel like I got a good deal. I decided to combine my love of all things bundles and my love of coffee for my newest Silhouette craft. The best part, I can now reuse these cut files (that you can download below) to create gift sets for everyone that's hard to buy for on my Christmas list.
I knew I wanted to create a decal for my tumbler and a design for a crew neck sweatshirt. Since I wanted them to be a set, I decided to use black vinyl for both and a coffee saying. Also, since I don't love bright and flashy designs for myself, I wanted to create a shirt that was a little less noticeable. For this reason, I chose a black sweatshirt and the black Flock HTV. This would create a unique look as well as a soft, textured design that would match the feel of the sweatshirt.
What I Used:
• Silhouette Cameo 3
• Flock Heat Transfer Vinyl Black
• OraCal 651 Black
• Pumpkin Spice Latte Cut Files
• Alternative Champ Eco Fleece – Eco True Black
• Ozark Trail Tumbler
• Weeder Tool
• Application Tape
• Pink Heat Press

The tumbler design took me some time, but I kept it simple by only using fonts and Silhouette Studio to create my design. I chose two fonts that I purchased from the Hungry JPEG, Boy Detective and Hello Bunda, to create my designs. The best part about Hello Bunda is that it comes with lots of glyphs which you can now use in Silhouette Designer Edition. This is how I was able to get the little curls on the ends of the words drinking and coffee.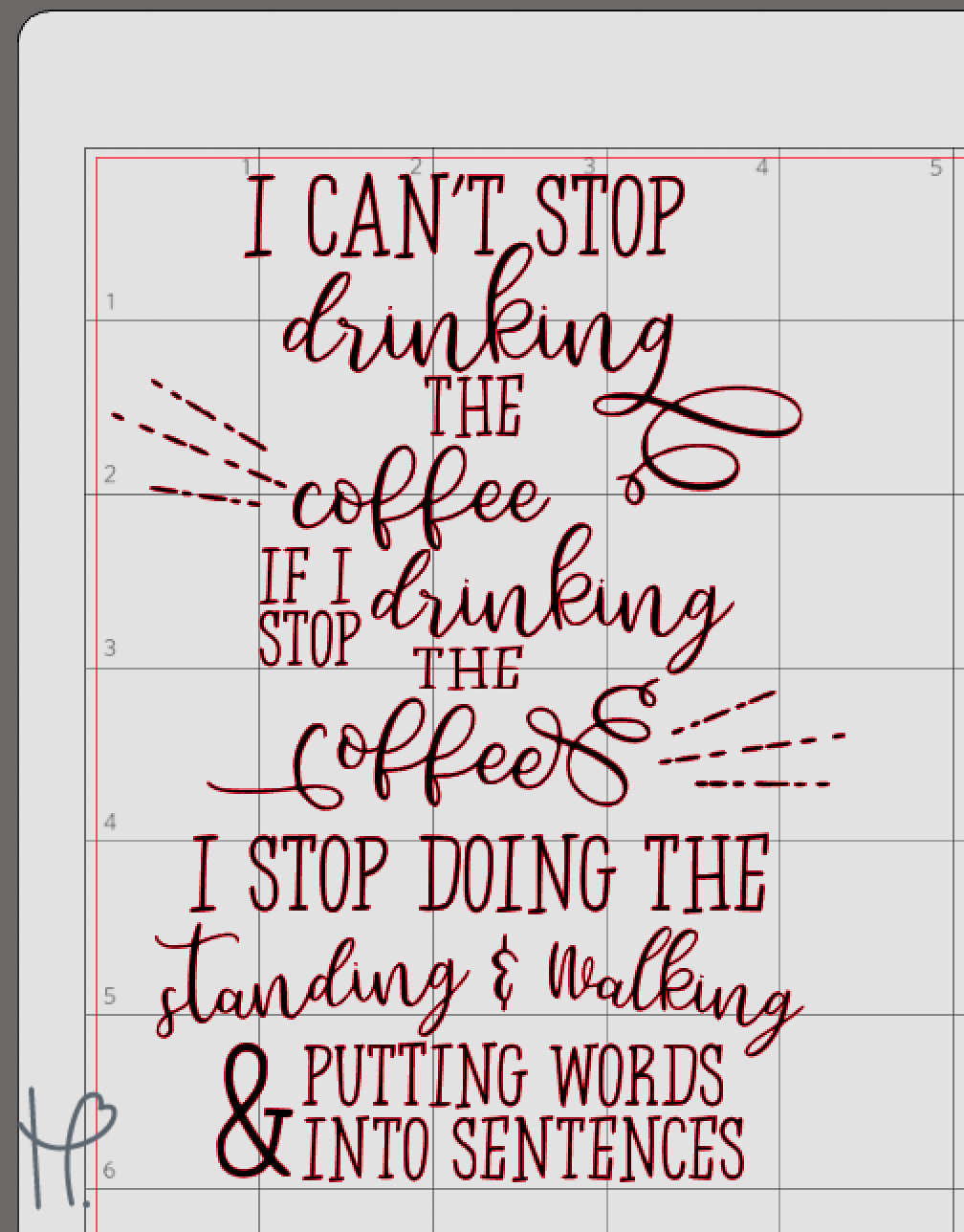 Once I was happy with the way the layout of the text looked, I sized it to fit my Ozark Trail tumbler and was ready to cut. Since I was using OraCal 651 and a Silhouette Cameo 3, I chose "vinyl glossy". Since this text was so small, I turned on my overcut feature and slowed down the speed a bit.
Now that my OraCal was cutting, it was time to work on my Flock HTV design. I started by using the Boy Detective font to type out the saying. I wanted to create text that would wrap around the rest of my design. So, I created a circle by holding shift and using the ellipse tool. Holding shift ensures that it is a perfect circle. Then, I double clicked on my text to open up the text editor. The next part can be a little tricky. You want to click on the 4-way arrow that you see to the left, then drag the text to the circle. Once I did that, I was able to make small adjustments to get the text exactly where I wanted it.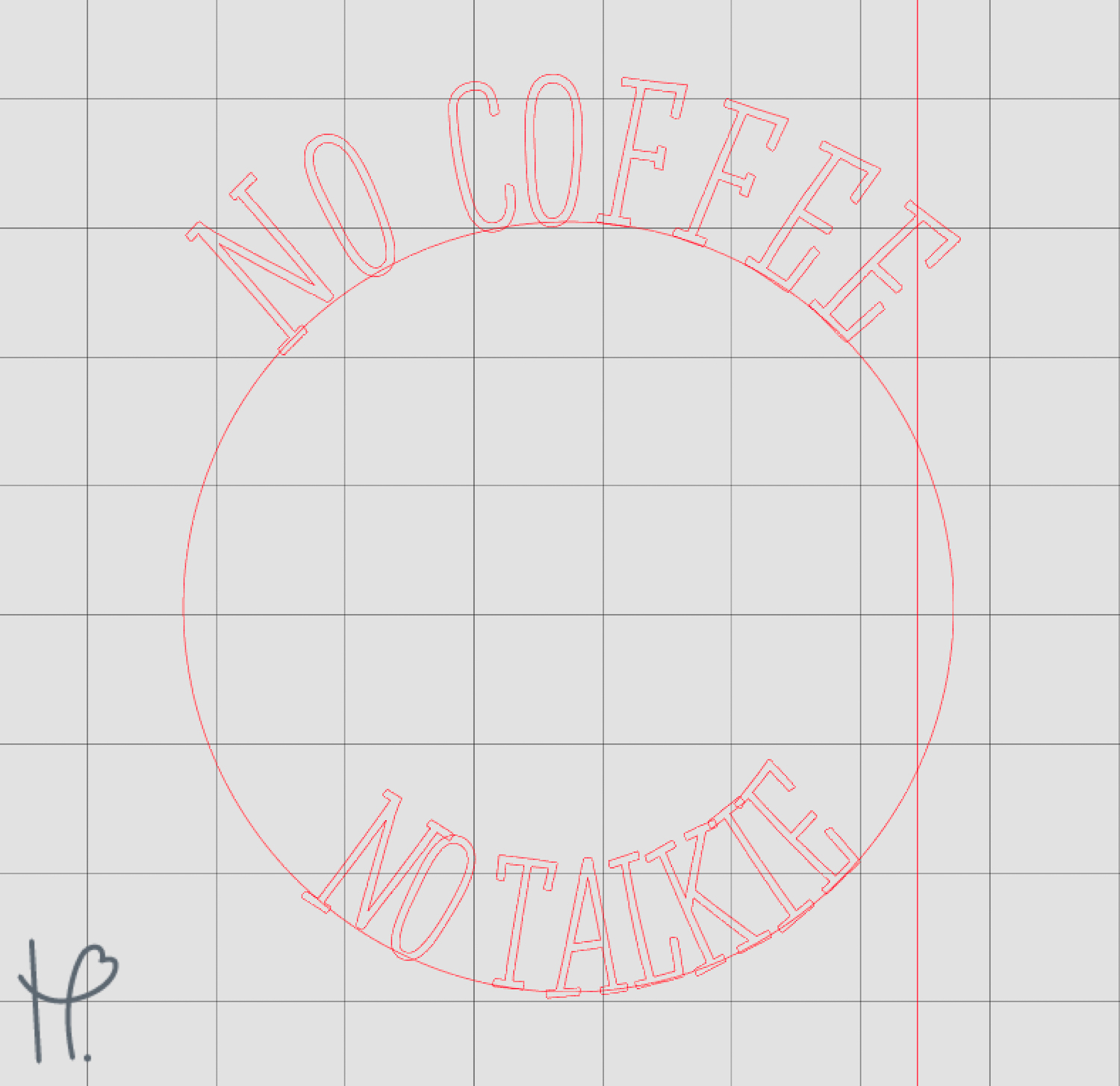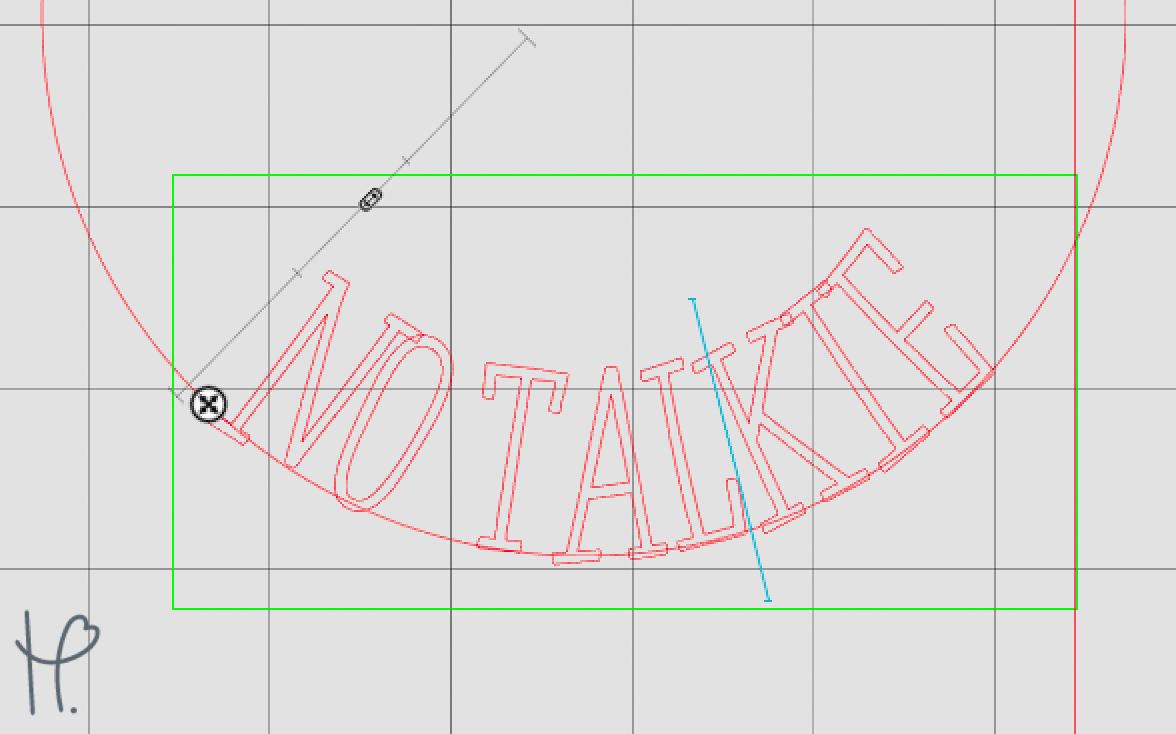 Once I was happy with the layout, I needed to make my text a path so that it was no longer attached to the circle. I did this by click on the text and choosing Object> Convert to Path. I made sure to do this to both lines of text before deleting the circle. If you don't delete the circle, your cutter will cut the circle out as well.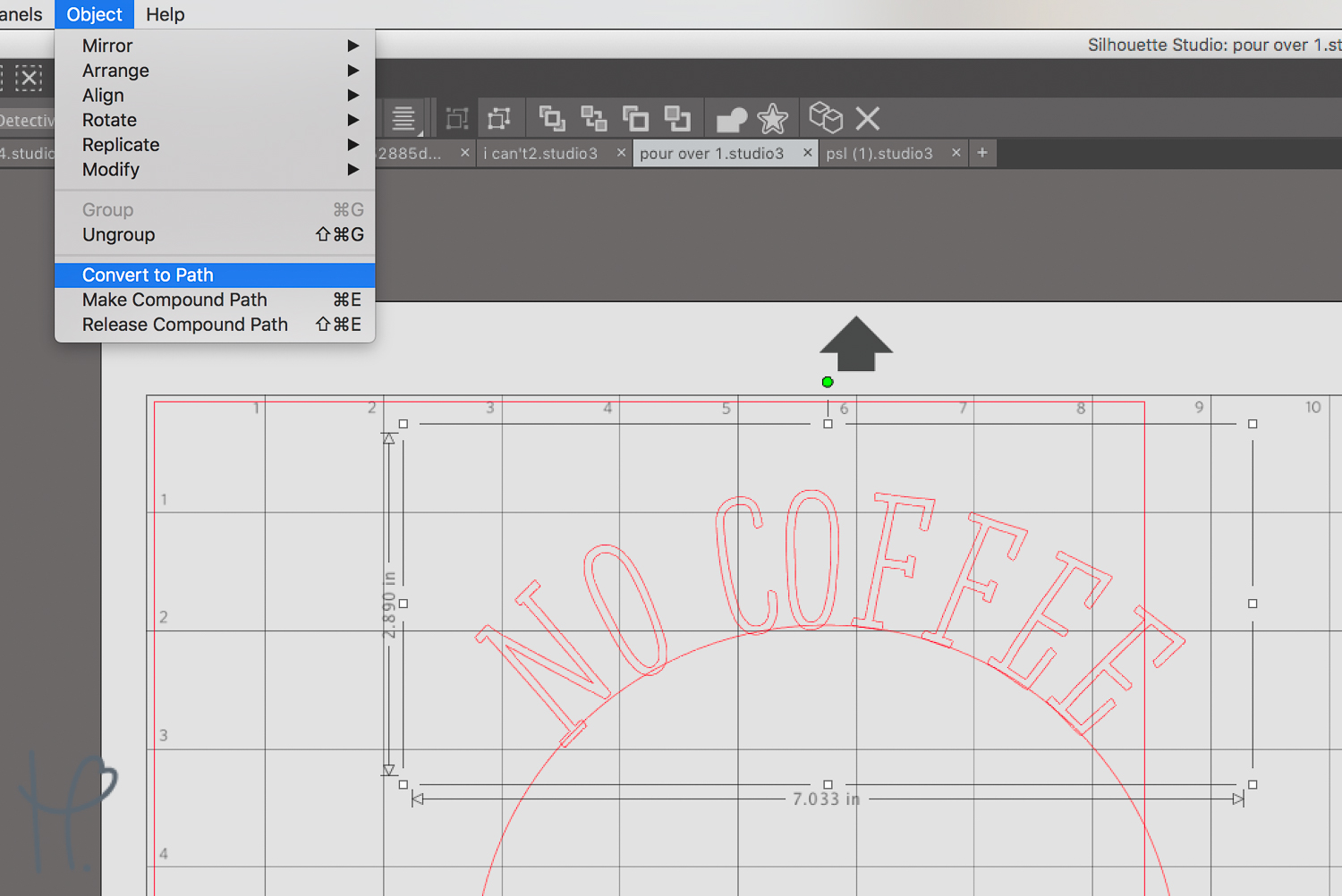 This design needed just a little bit more. So, I pulled up our free Pumpkin Spice Latte cut files and chose to use the "Pumpkin Spice Life" cup, but I didn't want the text. So I selected the cup, clicked Object> Release Compound Path and deleted the text on the cup. Then, I selected the entire cup again and choose Object> Make Compound Path. This allowed me to customize the free cut file a bit and only use what I needed.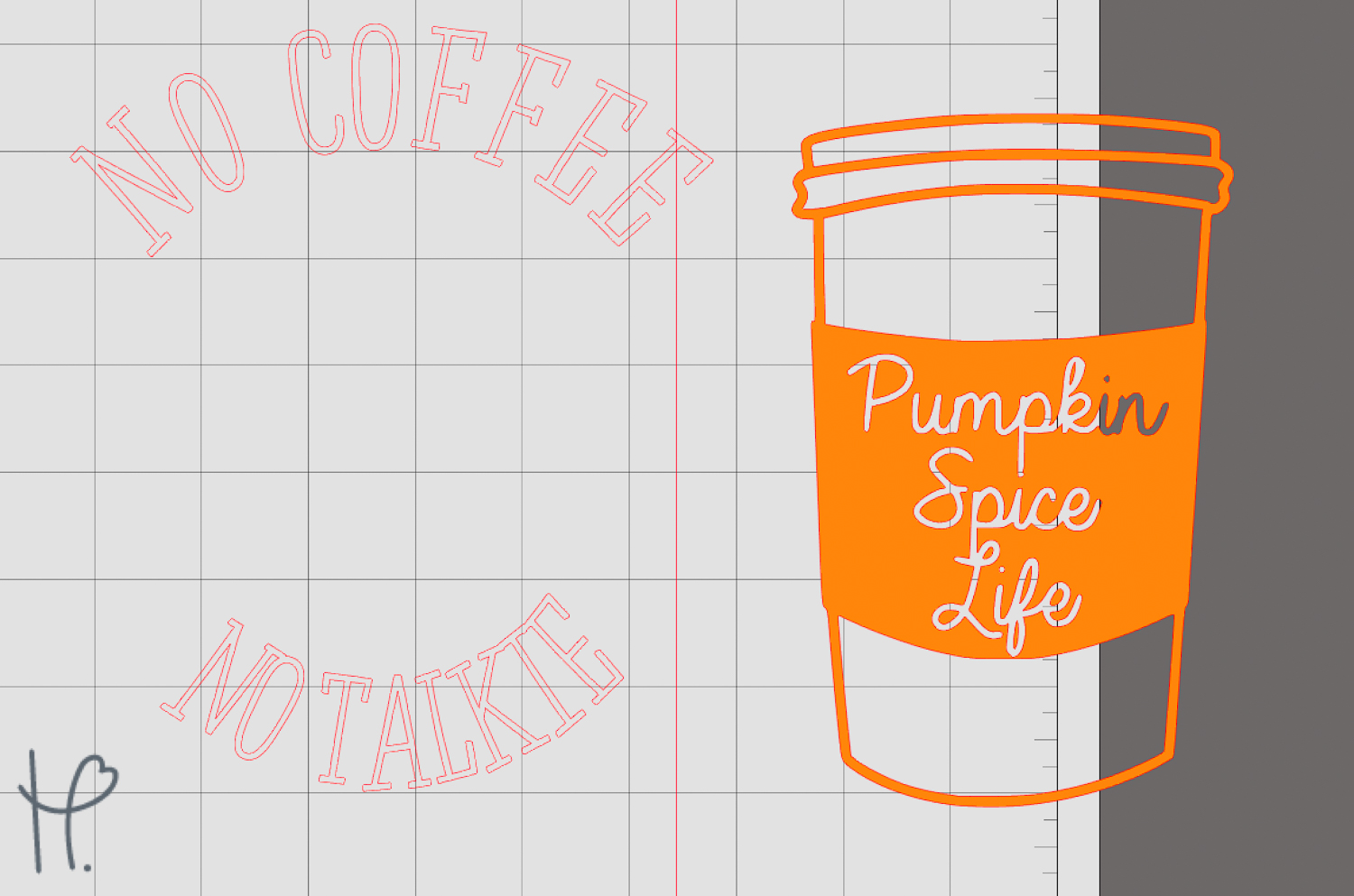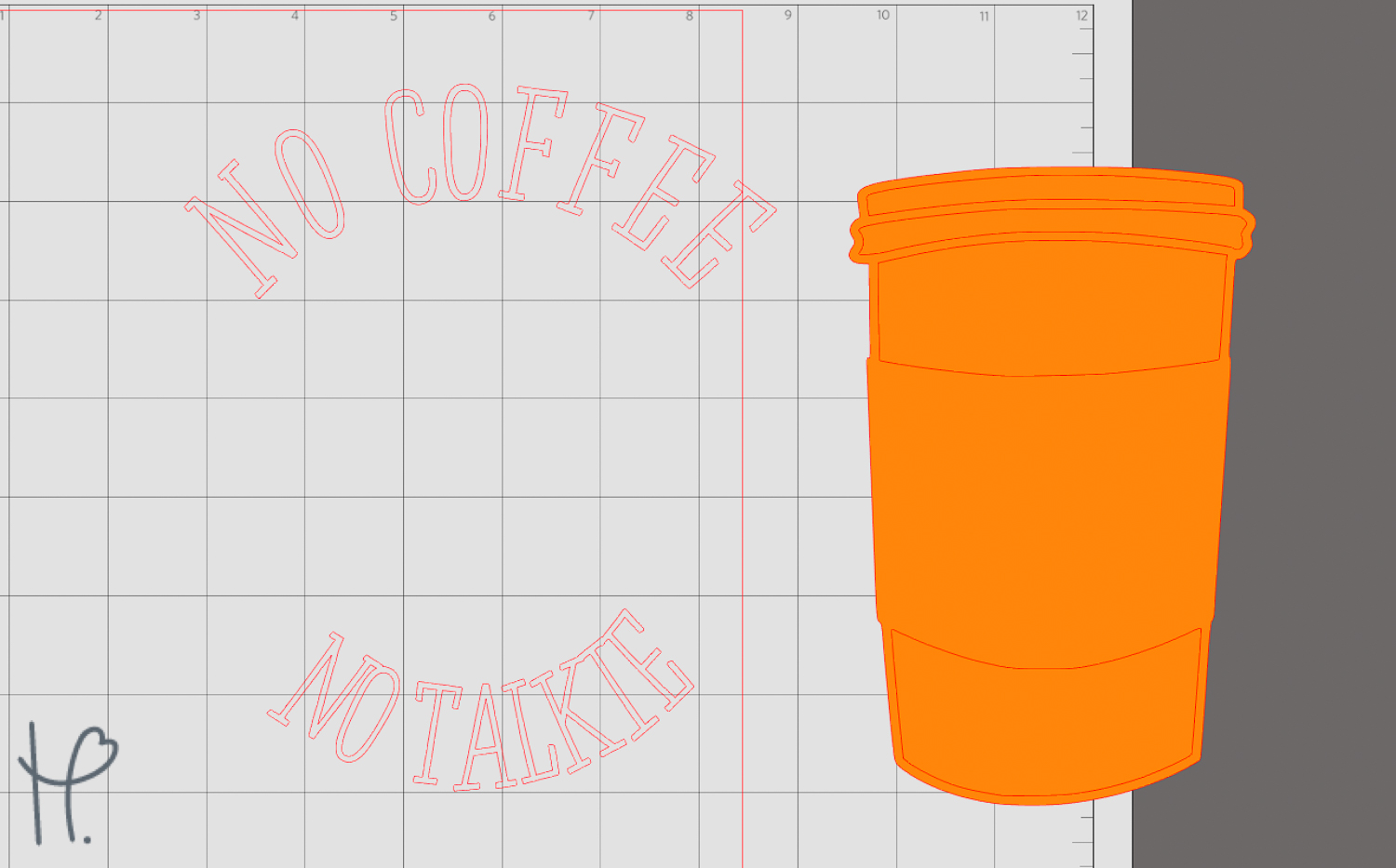 I placed the cup in the center of the text and aligned them all in the center by selecting them all and using the align tools on the top toolbar. Once I knew that everything was centered up, I mirrored my design and chose Flocked HTV in the Silhouette Studio settings. If you aren't using an Auto Blade, we suggest cutting at blade 3, speed 8, and thickness 12.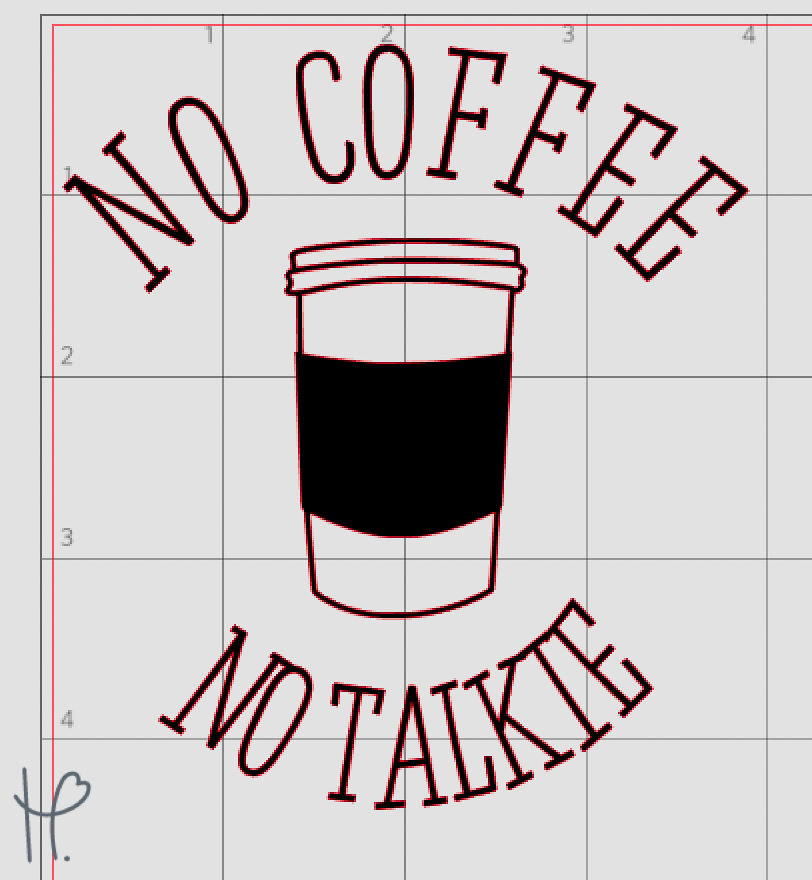 Flock HTV is favorite vinyl to use for just about anything, but especially sweatshirts and hoodies. You choose a sweatshirt or hoodie based upon how soft it is so why not go the extra mile and make sure the vinyl is just as soft? Remember, if you're using Flock HTV, it's a specialty material which means it costs a little more, but you can also sell it for more!
Once my designs were both cut, I used my weeder tool to pick out the cavities on both designs. I made sure to take my time on the adhesive vinyl design as the text was pretty small for this size tumbler. Then I took my clear application tape and applied it to the weed adhesive vinyl. Using my Lil' Chizler squeegee tool, I squeegeed the OraCal 651 onto my tumbler.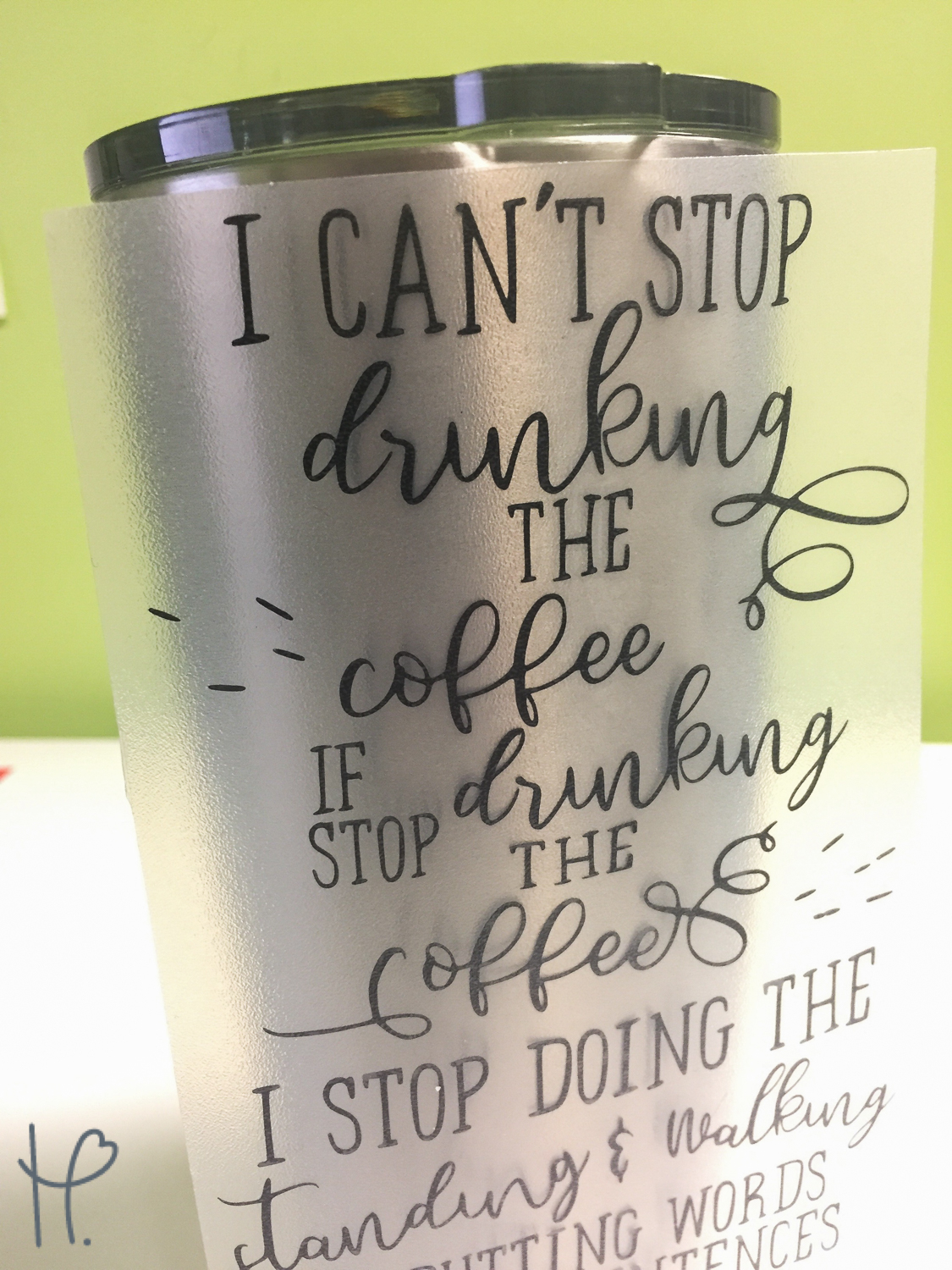 Then I used the Pink Heat press to adhere my left chest logo onto my sweatshirt. Flock HTV applies at 320º F for 10 seconds. I lined my sweatshirt up on the press making sure that the seams of the shirt weren't on the platen. Then I preheated the shirt to make sure I removed any wrinkles before pressing the design for the full 10 seconds. Flock is a cold peel, so I had to let my design cool down before peeling.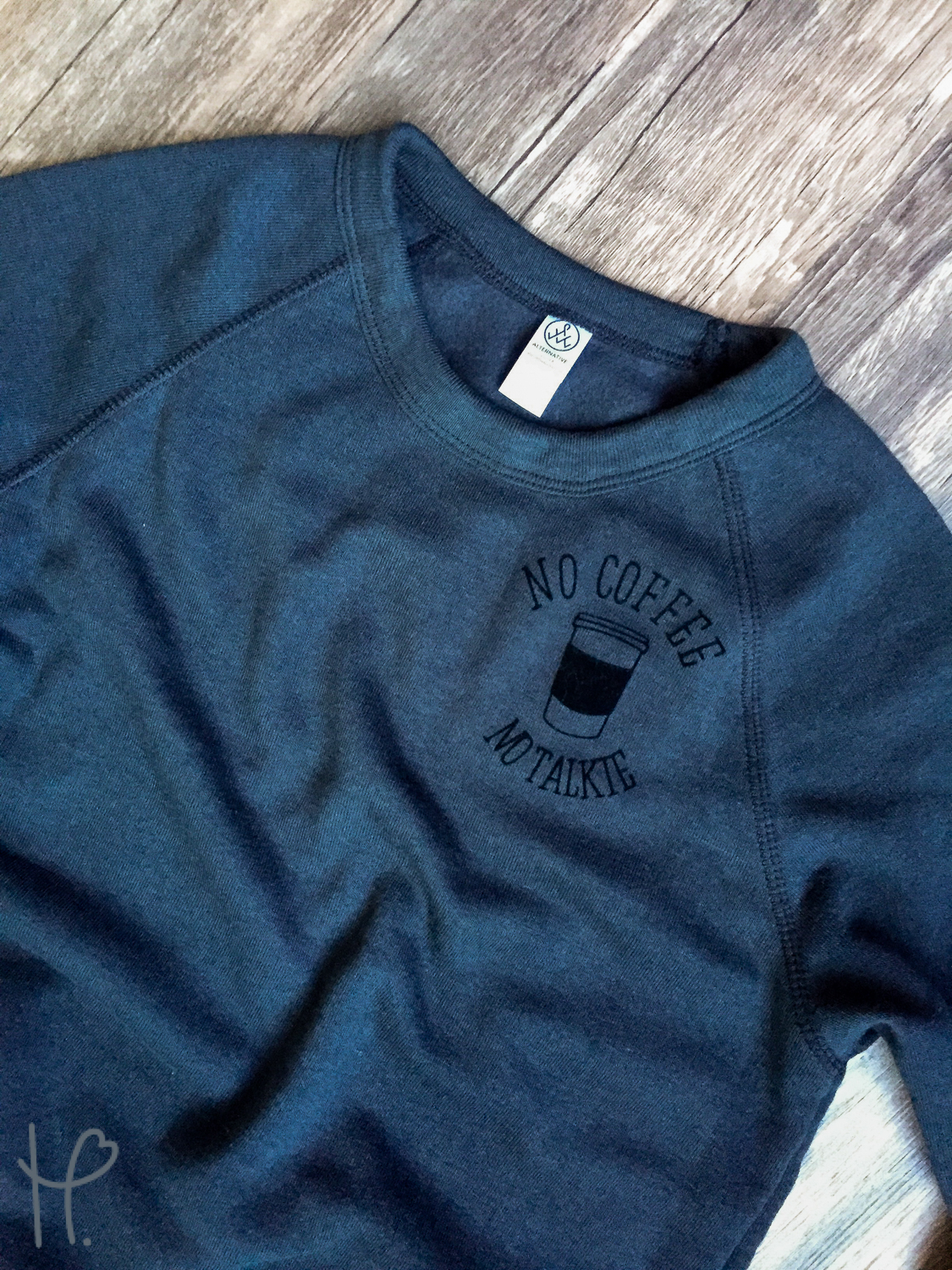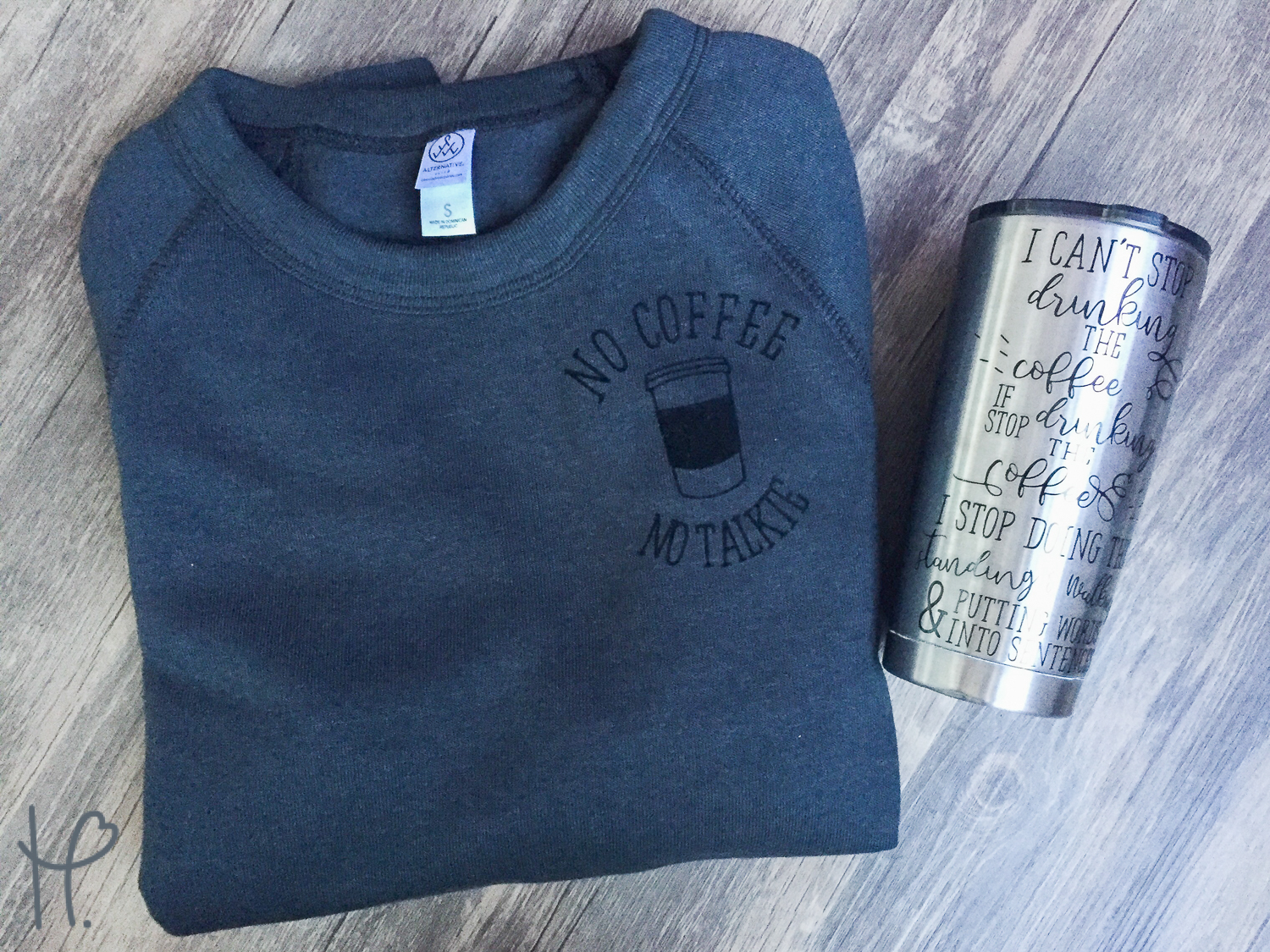 Lucky for me, this bundle was for myself, but if I were selling it, I'd offer a few options. I could sell both the tumbler and the sweatshirt individually for a little more. Then I could also sell them as a bundle or set since they're both coffee related for a discount. Even though the bundle would be at a discounted rate, you're guaranteed a higher sale since it would be the price of two. This means instead of maybe $25-$30 for the sweatshirt since it was an upgraded brand and fabric and $20 for the tumbler, I'd sell the set for $40-$45. Still not sure how to price your items? Try downloading an app like "Craft Pricing" or download our Craft Show e-Book that features an entire chapter on pricing.
Do you want to make your own coffee bundle? Enter your email below to download these cut files!

Download Your Free Coffee Cut Files!
Pin it for later!